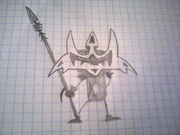 "Once a wise warrior made a Shish Kebab with 100 Bonedeths, using his long Pike"
Zhangori is a Spear Class warrior that equips Pikes, Shoulderpads and Shivs. It's agile like a Myamsar and strong like a Wooyari, this combination makes a really good warrior.
Uberhero Mode
Edit
Chainpike
Edit
"Zhangori "shoots" his pike like an Harpoon , long range, big damage.

Activate:
Edit
PON PON CHAKA CHAKA~PON PON PATA PON
PON PON PATA PON
"Shoots" his Pike/Shiv and retreats it when it hits something.It does big damage and pierces shields.
Class Skills
Edit
Pike Attack: +50% damage boost to Pikes. +30% for Shivs.
Chain Extension: During Uberhero Mode Zhangori's "Harpoon" has a longer range.
Accursed Pikes: +45% Chance to inflict Poison and +70% Critical Boost.
Super Freezer: +250% to Freeze rate.
Set Skills
Edit
Shiv Master: +100% damage for Shivs. 40% for Pikes.(At Lv.15)
Rage: During Uberhero Mode you will gain lots of power: +300% damage for Pikes,+160% for Shivs,+2000 Health and +40 Defence.(At Lv.20)
Banhammer Power: 10% chance of summon a giant Hammer and kill 10 foes in a single blow.(At Lv.25)
Peerless Pike: If you do PON PON CHAKA CHAKA~PON PON PATA PON your power will increase with the next five PON PON rhytm.
Affected Class Skills
Edit
Two Spears
Three Spears
Four Spears
Five Spears
Set Skills 1
Set Skills 2
Set Skills 3
Set Skills 4
Equipment
Edit
Zhangori equips Shivs from unlocking, Pikes at Lv.15 and Shoulderpads at Lv.25 .
Shivs do a little damage, but they inflict some Status Effects.
Pikes do big damage, but they only inflict 2 Status Effects: Stagger and Knockback.
Shoulderpads give a boost to Health, Weight, Damage and Defense.
Its mask is unique, it's not based in any animal.
His Shivs/Pikes grow when he attacks , and shrinks when Defends, also they grow during Uberhero Mode.
You can shoot up to 5 harpoon projectiles during Uberhero Mode if you unlock the Yarida's Five Spears Class Skill.