The Fire is the eighth episode of the sixth season of Kamella Patapon, and the seventieth episode overall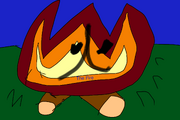 Episode Description
Edit
Takako leaves before the storm strikes, and her friends' Kamis were exposed as another creature. Gale, who is rivalled by Ravenous argue over Takako. Shumadan and Yusi start the search and when Takako freezes herself, what is that spark!? Who will lose their defense first?
TBA
Character Cast
Edit
Takako
Inosen
Defeat
Gale
Ravenous
Shumadan
Yusi
Poppy (exposed at Feline)
Willow (exposed at Inosen)
Critters
The storm strikes in this episode, but when focused on Takako and Defeat, it doesn't rain.

It can hint that Defeat used the rain against her friends to interfere the search.

Inosen's white crystals that are on the mask appears, but mostly its not there, unless under circumstances on ice.
Defeat returns in the episode.

Revealed that Gale rivalled Ravenous, depending on their element they're against each other, as well as Takako on ice against Defeat on fire.
Because of removing the Patapon form during night he was exposed, and Takako fights him. It could mean he did not actually die, and he's considered as an antagonist deuteragonist.

Takako appears again in this episode, not until it focuses on her and Defeat.
The other characters from the first until the second sequel return in the episode.

Inosen, who was in front of Willow was exposed, because they share common things, however unlikely.

The kanji on the title card says "Fire".
Ad blocker interference detected!
Wikia is a free-to-use site that makes money from advertising. We have a modified experience for viewers using ad blockers

Wikia is not accessible if you've made further modifications. Remove the custom ad blocker rule(s) and the page will load as expected.