Shoraitron Tribe
Edit
The Shoraitron Tribe is one of the main antagonists of
Patapon 6
.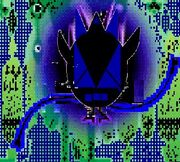 They are blue robots with spikes on the top. They were once space debris or junk, but they are found and revived by Black Hoshipon. Their leader is
Trontron
, the only robot (in the Patapon World) which has emotions and a soul, assisted by 3 powerful Shoraitron Generals, Notron, Kitron and Huktron.
Leader: Trontron
Yaritron
Tatetron
Yumitron
Kibatron
Dekatron
Megatron
Hoirutron
Robotron
Mahotron
Hoshutron
Ad blocker interference detected!
Wikia is a free-to-use site that makes money from advertising. We have a modified experience for viewers using ad blockers

Wikia is not accessible if you've made further modifications. Remove the custom ad blocker rule(s) and the page will load as expected.