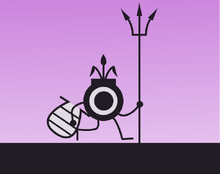 Poseyepon is an elite Patapon unit, made up of four regular sized patapons with tridents and nets.
PON PON: Poseyepon throws a trident.
PON CHAKA: Poseyepon charges with the trident.
"CHAKKA CHAKKA": Poseyepon throws a net, capturing an enemy until the timer runs out. How long the enemy is trapped, and the damage of the net, depends on the net itself.
Uberhero Mode
Edit
In Uberhero mode, the poseyepon hero will shoot huge waves out of his trident. This deals damage proportional to the level of the trident to almost every enemy on screen, save perhaps the highest bird-riders. Also, any enemy trapped in a net will remain there for three times as long.
Ultimate Uberhero Mode
Edit
Set Skills
Edit
Class Skills
Edit
Ad blocker interference detected!
Wikia is a free-to-use site that makes money from advertising. We have a modified experience for viewers using ad blockers

Wikia is not accessible if you've made further modifications. Remove the custom ad blocker rule(s) and the page will load as expected.