I SAID IT's NOT DONE BUT I SHOULD HAVE NOT ABANDON THIS LONG AGO but NOW I KONW HOW TO MAKE VERY DETAILED SPRITES AND STORYLINE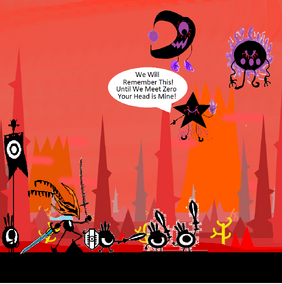 After the events of Patapon X, Almighty Kami bestowed Hero the name, "Zero", or "Zeropon". This was due to two reasons: that all Hero's energy had been reduced to nothing, and that Hero had been given a new form, that of an Uberhero. Zero could now use any weapon as he willed, and Almighty Kami had entrusted to him an item that could protect the Patapon tribes.
Two years after this, Zeropon and The Patapon Queen co-ruled the Patapon Kingdom. Alas, the mysterious fog that covered the Land of Darkness had started to make its way to Patapon land. Three shadowy forms quickly flashed in and out of existence. Alerted by the presence of these, Zero and his troops searched high and low for these ghastly silhouettes and found that they had come from the Forests of Hell.
The warriors confronted these spirits, whose forms were clear in the light now, and found that they took the shape of a sun, a moon, and a star. At first they all suspected the dark astral figure to be Black Hoshipon, but then realized that what they faced before them had a much darker and sinister aura. They introduced themselves as the Three Black Wisemen.the Wisemens are the cause of this Disturbance and Corrupted Haft of the Land. with a Dark Plague. the Wisemens plan is to Summon there Demon God to takeover Earthend.Zero and his Army must Defeat this so Called Dark Plague. but in a Legion of his Patapon Comrades.Through this Events a Huge Battle in History was formed Patapon Vs Demons. a Legion between Legion.
thus through this events This is not the End but a Beginning of the Patapon's Downfall. during the Huge Battle Zero Confronts the Demons in one on one match. each he must kill the The Wisemens. two of the Wisemens met there Downfall but Zitchu is not confurmed to be Dead. he is waiting for Regeneration to Chapter Three.thus this makes Zero's Downfall and he died after the battle Between Zitchu but later he will be revive as the Fallen One. 
This is known as Chapter one and the Prologue to Chapter two. 
Characters
Edit
Antagonist
15:45, July 3, 2014 (UTC)
Ad blocker interference detected!
Wikia is a free-to-use site that makes money from advertising. We have a modified experience for viewers using ad blockers

Wikia is not accessible if you've made further modifications. Remove the custom ad blocker rule(s) and the page will load as expected.