Patapon Enemy Cage
Edit
Patapon Enemy Cage is a minigame where you kill Akumapons and Bonedeth as Myamsar.
It all began a short time after Patapon 2.
They have captured their enemies, each that harbors hatred for Patapons. The Uberhero, Myamsar, must kill them as a result of the long fight between them..
Objective
Edit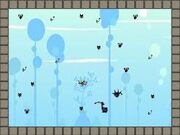 Chase Akumapons and Bonedeth using the arrows keys as Myamsar. If you collide on Patapons, the game will end. Earn as much score as you can!
Characters
Edit
Your allies. Don't kill them, or else...

Akumapons
Edit
These captives are very fast, but killing them has a good reward. Kuwagattan is in there. Before Kuwagattan dies, he sends out an earthquake attack sending Myamsar somewhere.

Not-so-fast captives. Comes with a little bit good reward. As a Dark Hero, Rottenlee Ravenous is also in there, making you lose 100 points when you kill him.
In the Making
Edit
This game is recognized as a minigame and is being made by LightofDeath. Stay tuned for updates at Fanopedia's Facebook Group, or the forum page about this.