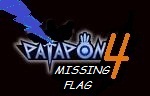 Patapon 4: Missing Flag is the 4th game in the Patapon series. It occurs at the same time as Patapon 4: Hatapon's Quest.
Storyline.
Edit
Hatapon headed out by himself to explore, but never returned. Will this be the end?
Once upon a time,
There was a clan named Patapon, whose leader was Hatapon. 5 years after the clan's beginnings, Hatapon snuck out of bed and went on a adventure. Later that day, Meden noticed that Hatapon was gone.
"Hatapon is gone? Noooo!", she panicked Priestess Meden.
2 hours later, Meden decided to ask the newest tribe, the Hrava, for help.
"Hello. This is Meden, and we need a new leader. Can you be our new leader, Hiravo?" said Meden.
Hiravo agreed.
Gameplay.
Edit
The Gameplay is similar to Patapon 3, but there are 3 Spear Classes, 3 Shield Classes, 3 Archer Classes and one Uberhero. Hatapon will not join here, but this will be lot easier except that your Army's stamina is reduced to 80%...

...this is also one of the first games with the Hrava clan!
The Hrava
Edit
The Hrava tribe is one of the many clans in Patapon 4: Missing Flag. They consist of beings who are also called "Hrava". They appear to be normal-looking patapons, the difference being that they have everything-except-freinds-phobia. Their health ranges from 20-50 HP
Hiravo being a notable example among them. His coming was foretold by Pazitagoponton.
They have a system called the Hrava Evolution Wheel, which is usually used for family time. The Hrava clan uses an wheel to show the evolution of both Patapons and Zigotons.