"At the Byrun Snowfields, reside a Patapon with high intellect. Sadly, he betrayed the Patapons for power to Bababaan and Akumapons. Defeat Tentakupon to get high quality metal (Adamanman is here)!"
Tentakupon is a boss in a Patapon game.
Appearance
Edit
Tentakupon is a classic Patapon. With 4 metal tentacles on his back, making him tough enough to face anything.
Abilities
Edit
He has 5 abilities:
Tentacle Slap: Raises his upper tentacles and slap a Patapon does minor damage but pushback is high. Evade PonPata ONLY!!!
Stomping Tentacles: He'll charge and walks hard with his tentacles stomping any Patapon, does moderate damage but high critical 200 damage. Unavoidable defend with ChakaChaka.
Rip Apart: Stands with his bottom tentacles. Upper tentacles will start open-closing their pincher and grabs 2 Patapon and rips them to two. Avoid PonPata ONLY!
Train Crash: Let's out a remote while saying, "Take on an express, eyeballs!" and a train shows up. This is deadly effective againts Hatapon so evade with DonDon ONLY!
Reactor Creator: Once he's health goes to 23%, he'll create a reactor. The reactor shoots 6-15 lightning. After that. Tentakupon repairs the reactor, leaving him open to attack. Unavoidable so use ChakaChaka.
Patapon 2
Edit
In Patapon 2, while you were seeing the Mater grows, Tentakupon escapes to Obelisk to the snowfields.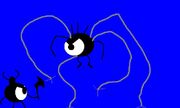 -He is the same as Doc Ock from Spiderman 2
-If you beat him with fire, he'll drop 496 ka-chings and 2 Adamanmans
-He is like the patapon wikia Centura while walking. But have ice effects
Ad blocker interference detected!
Wikia is a free-to-use site that makes money from advertising. We have a modified experience for viewers using ad blockers

Wikia is not accessible if you've made further modifications. Remove the custom ad blocker rule(s) and the page will load as expected.