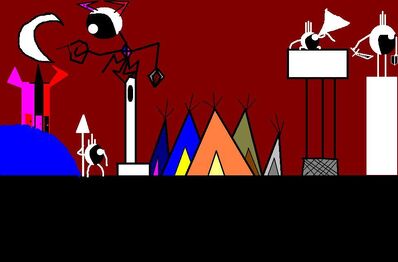 "In the deepest area of the mirror, resides a place with lots of tents and altar and Metar, The Tree of Death. Is is Patapolis? No! It's ChakaTolis!"
-Game description
ChakaTolis is the hideout of the ChakaDons in Patapon: Negative Patapons.
It is just the same as Patapolis but the Metar, Tree of Death in there, is not shown.
Location: Mirror
Belongs to: ChakaDons
Population: 200.000
Buildings
Edit
There are several buildings in ChakaTolis.
5 tents: The 5 tents are used to train troops. There are different colors of the tents like red and blue.
Ebilosk: Like the Obelisk, it is used to travel to certain areas.
Sukodon Tower: In the right side, there's a tower with Sukodon watching the stars to see if anything is wrong.
Purple-Black-Red Castle: The place where Dead Eye and Gninrael lives. It creates troops and equips them with powerful weapons.
In the picture, you can see a Yaridon. That is before the 'creature' attacks them.
The Tatedon statue can actually be alive and battles opponents upon contact.
Sukodon also spies at the enemies.
In the Ebilosk, Dead Eye is seen hanging around without his tentacles.
The sky is ALWAYS dark red.
If any tribe attacks them, they will find them and terminate them even if it takes forever to find them.
Even though they are actually Demon Patapons, they hate the Akumapons.
Tatedons in ChakaTolis are rare to see.
Ad blocker interference detected!
Wikia is a free-to-use site that makes money from advertising. We have a modified experience for viewers using ad blockers

Wikia is not accessible if you've made further modifications. Remove the custom ad blocker rule(s) and the page will load as expected.